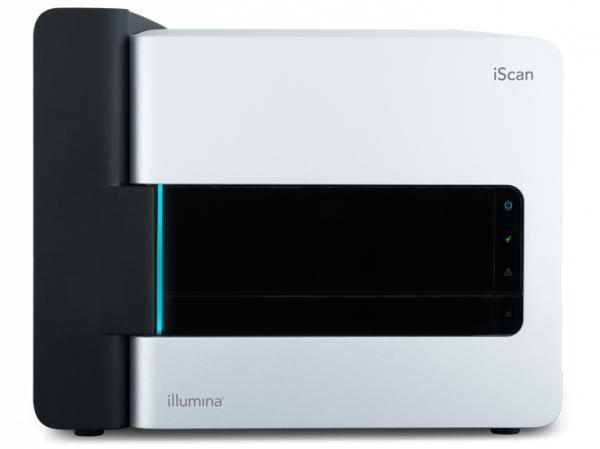 Array scanner for extensive applications
Description
The iScan System can scan thousands of array samples per day, without sacrificing data quality or reproducibility. It supports our expansive portfolio of genetic analysis assays, from high-throughput genotyping to DNA methylation analysis.
Humancyto SNP-12V2.1
The 12-sample HumanCytoSNP-12 BeadChip is a powerful, whole-genome scanning panel designed for efficient, high-throughput analysis of genetic and structural variations that are most relevant to human disease.
Complete panel of genome-wide tag single nucleotide polymorphisms (SNPs) and markers targeting all regions of known cytogenetic importance, incorporating ~300,000 "best of the best" SNPs with the highest tagging power
Average SNP call rates and reproducibility of > 99.9%, and low noise for copy number measurements
Detect many types and sizes of structural variation in the human genome that affect phenotypes, including duplications, deletions, amplifications, copy-neutral loss of heterozygosity (LOH), and mosaicism
Process up to 12 samples in parallel, increasing sample throughput and decreasing experimental variability
Process samples using the single-tube, PCR-free Infinium HD Assay that requires only 200ng DNA per sample
The HumanCytoSNP-12 BeadChip is optimized to detect cytogenetic abnormalities most relevant to human disease. Content includes ~300,000 SNPs targeting regions shown to be important for cytogenetic analysis. The result is dense coverage of ~250 disease regions, including subtelomeric regions, pericentromeric regions, and sex chromosomes, commonly screened in cytogenetics labs. Sufficient SNP coverage is provided to determine dosage sensitivity of > 800 genes.
Human EPIC Methylation kit
With the Infinium MethylationEPIC BeadChip Kit, researchers can over 850,000 methylation sites are interrogated quantitatively across the genome at single-nucleotide resolution. Multiple samples, including FFPE, can be analyzed in parallel to deliver high-throughput power while minimizing the cost per sample.
This kit includes the following content categories requested by methylation experts:
CpG sites outside of CpG islands
Non-CpG methylated sites identified in human stem cells (CHH sites)
Differentially methylated sites identified in tumor versus normal
FANTOM5 enhancers
ENCODE open chromatin and enhancers
DNase hypersensitive sites
miRNA promoter regions
> 90% of content contained on the Illumina HumanMethylation450K BeadChip