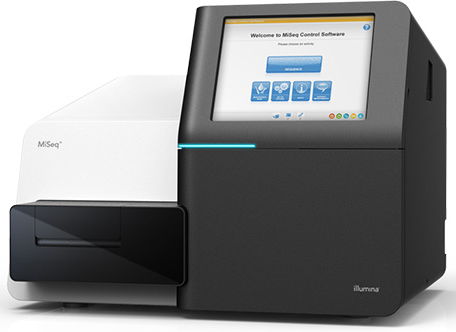 The MiSeq System is Illumina's benchtop sequencer, ideal for your small NGS projects.
Description
The Illumina MiSeq® System is a sequencing apparatus that integrates cluster generation, sequencing (sequencing by synthesis technology (SBS)), and data analysis. Access focused applications such as targeted resequencing, metagenomics, small genome sequencing, targeted gene expression profiling, and more. MiSeq reagents enable up to 15 Gb of output with 25 million sequencing reads and 2 × 300 bp read lengths.
The MiSeq System facilitates your research with a wide range of sequencing applications. It is capable of automated paired-end reads and up to 15 Gb per run, delivering over 600 bases of sequence data per read. The library prep kits that it uses are optimized for a variety of applications, including targeted gene, small genome, and amplicon sequencing, 16S metagenomics, and more.